One of Géoclip Air's most appealing aspects is its adaptive interface: any observatory can be accessed from any type of screen, with adapted ergonomics. It's convenient to be able to quickly obtain a few figures, just from your smartphone. However, where the Géoclip Air interface displays all its potential, it is on a beautiful wide screen. This is where all the restitution modes proposed in the Indicators section are best expressed: map, table and summary sheet and the different combinations between them.
Putting side by side map + table, map + summary or map + map brings even more possibilities of interaction, to make data mining even more fun.
Par exemple, dans le mode composite "carte + synthèse", toute sélection géographique effectuée sur la carte se répercute automatiquement sur la fiche de synthèse. Tableaux et graphiques se mettent à jour pour donner les chiffres sur un département, sur les communes qui le composent, sur les communes se trouvant dans un certain périmètre...
Autre possibilité : en juxtaposant deux cartes, il est possible d'obtenir d'un côté une carte détaillée, sur un département par commune, et de l'autre, une carte de synthèse, sur l'ensemble de la France par département, pour les même indicateurs.
Ces exemples sont illustrés dans la vidéo ci-dessous, réalisée à partir du site Statistiques Locales de l'Insee. En 5 minutes, elle montre aussi comment afficher une animation temporelle, comment glisser un indicateur d'une carte à l'autre, comment enrichir une carte avec des couches d'habillage...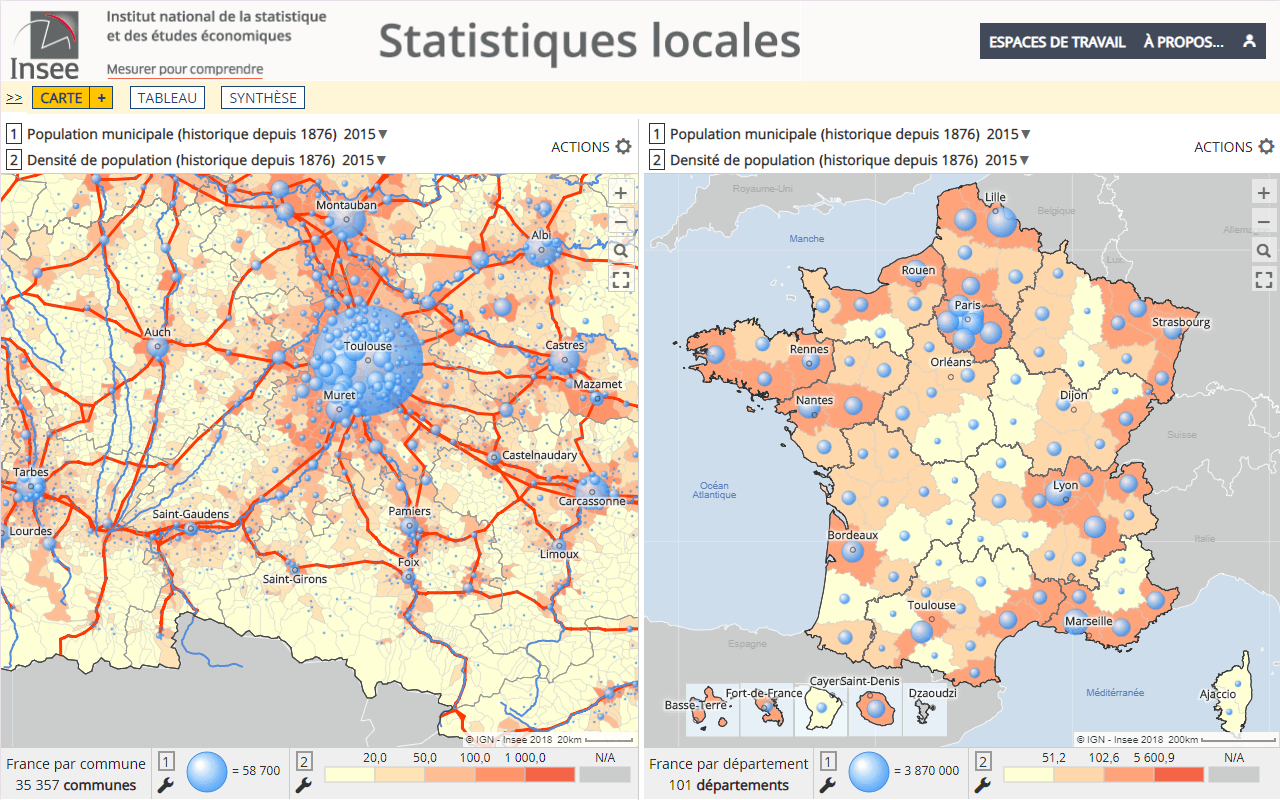 Ceci n'est qu'un aperçu des multiples possibilités offertes par les modes composites, dans l'espace Indicateurs. En mode "2 cartes", il est aussi intéressant de juxtaposer des cartes représentant des indicateurs différents, mais complémentaires, par exemple le 1er et le 9ème décile du niveau de vie.
Un autre mode composite d'une grande richesse est le mode "carte + tableau". Il permet par exemple d'opérer un filtre à partir du tableau et de traduire ce filtre sous forme de sélection géographique sur la carte. Cela permet ainsi de localiser sur la carte les départements de plus d'un million d'habitants, ayant un taux de chômage inférieur à 10 %, ou n'importe quelle autre condition définie sur les indicateurs chargés. Cela pourrait faire un joli sujet pour une autre vidéo...
https://www.geoclip.fr/wp-content/uploads/2019/01/mode2cartes.png
400
500
La rédaction
https://www.geoclip.fr/wp-content/uploads/2019/10/logo_geoclip_header.png
La rédaction
2019-01-31 13:04:29
2019-02-10 11:25:11
Combine dataviz over the full screen width