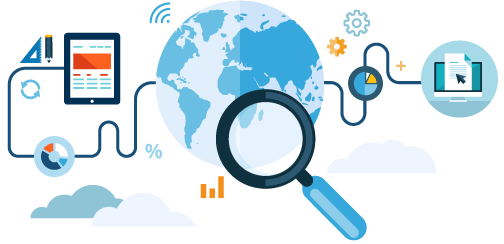 Géoclip, the observatory generator
Géoclip Serveur, created in 2002, has become over time a market reference for statistical cartography applications on the web. Geoclip Server was born when the possibility of online access to large databases appeared. It has been steadily enriched with new functions in order to offer users a wide pallet of tools while remaining easy to administer. In addition to thematic mapping, Geoclip Server provides functions for editing territorial portraits and importing personal data.
In 2011, Géoclip Serveur underwent a major upgrade which justified a change of version and the release of Géoclip O3. This latest release continues to offer all of the fundamental features required for interactive statistical cartography that have made Géoclip a standard reference. It has benefitted from new possibilities which have made it a true territorial observatories generator.
The data base on which Géoclip Serveur draws, can contain a practically unlimited volume of data. However there is no need for the administrator of the application to be expert in handling data bases. The application can be controlled entirely by means of the management module interface, which can be reached through the navigator. It is thus very easy to update and enrich the application, making it a dynamic, continually evolving tool.
The management module can be used to create new indicators with all of the corresponding meta-data. It can be used to add any new thematic analysis, to modify the parameters of an existing analysis or to parameter data restitution. On the geographic side, it can also convert and integrate any type of map, in a particularly compact format, for unrivaled performance.
Géoclip mobile is a component integrated with Géoclip 03 in 2015, which is specifically designed for smartphones and tablets.  This extension has been entirely reworked to be user-friendly and to meet the specific needs of users of a mobile-friendly, geolocation, decision-making tool.
Géoclip mobile is the precursor of the future complete version of Géoclip Serveur, dubbed Géoclip Air, currently at the end of its development. Available for all in the spring of 2017, Géoclip Air is designed to be accessible from all types of devices: computers, tablets, smartphones. Its main characteristics are:
- adaptive and accessible with HTML5 technology,
- even more ergonomic, user-side AND administrator side,
- new functions, especially in reporting and importing of data.