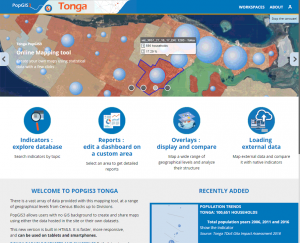 Atlas of the Tonga Islands (PopGIS) - Pacific Community
The Pacific Community is the most distant user from our Occitan lands. He is an experienced user, completely autonomous in the construction of his Géoclip observatories: our exchanges are only made by email, with the special complication of a particularly large time difference.
He has undertaken to upgrade to the Géoclip Air version the various atlases he publishes on the Pacific Ocean archipelagos. Here is for instance this atlas of the Tonga Islands, presenting the results of the 2007 population census. Everything is in place, with attention to detail, including the customization of the buttons on the home page!