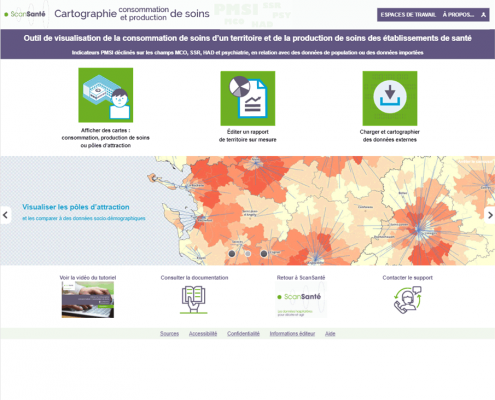 ScanSanté - The French Technical Agency for Information on Hospitalisation
The French Technical Agency for Information on Hospitalisation collects all data relating to the activity of all healthcare facilities. The Medicalization of Information Systems Program database covers the patients care pathways throughout the national territory. It is used for analytical purposes to better understand and adjust health expenditures. Mapping the indicators from this database makes it possible to visualize the geographical distribution of healthcare facilities activity.
This essential project began more than 15 years ago and is now undergoing its 3rd in-depth renovation. Faithful to Géoclip from the beginning, the mapping tool now adopts Géoclip Air. It allows several cross-approaches. The main ones concern on the one hand an analysis by territory (where do people who use a health care facility go?), and on the other hand an analysis by facility (where do patients who are cared for by a facility come from?)
This mapping tool, available on the ScanSanté website, enables health professionals, decision-makers and people involved in spatial planning and more broadly all citizens to better understand and analyse economic activities related to health.