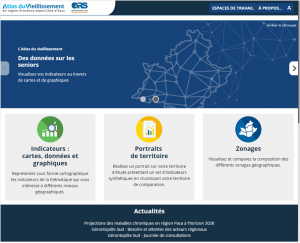 Ageing Atlas - ORS Provence Alpes Côte d'Azur
The Regional Health Observatory in Provence Alpes Côte d'Azur publishes its Ageing Atlas, built with Géoclip Air. ORS Paca knows Géoclip well, since it already manages other observatories, such as Sirsé Paca, which is currently migrating to the Air version.
With this atlas, the objective is to collect data on the specific population of seniors. This includes both demographic data on ageing as well as more original data on health status, care provision or facilities for the elderly.
This atlas is the result of collaboration between several ORS partners: the South Region, the Regional Health Agency and the South Gerontopole.